Original Article Part 1
---
Manilla Sex Orgy
Victims Confront
Bataan Butcher
MANILA (UP)
Survivors told a military tribunal Thursday that
Japanese soldiers killed a former Philippines supreme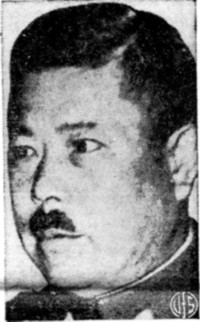 GEN. YAMASHITA
court justice and 14 of his friends, some of whom
were burned alive, and repeatedly raped 40 of
Manila's most beautiful and socially prominent women.
The tribunal must decide whether Gen.Tomoyuki Yama-
shita, so-called "Butcher of Bataan" and Commander of
Japanese forces in the Philippines, will die for the
rape, torture and murders his forces committed during
an eight-day reign of terror before the liberation of
Manila in February.
Confront Butcher
Women and girls who were raped as many as 15 times
confronted Gen. Yamashita and told all the revolting
details of their enforced shame.
The press and the public were barred from a star
chamber session, but a digest of the testimony was
made available.
Dr. Walter K. Frankel, a German-Jew refugee, told
how 15 persons were burned alive in Manila's court
section, including a former supreme court justice,
Antonio Villareal and Mrs. Villareal.
Japs Used Knife
One witness identified only as "Miss A" said a
Japanese used a knife on her when he found she could
not be raped because of her tender age and under-
developed condition. After brutal operation she was
raped three more times, she testified.
Another witness, Miss "G." testified she was raped
12 to 15 times, first by three Japanese
(Continued on Page Three)
Original Article Part 2
---
Manila Rape -
Victims Testify
(Continued from Page One)
in succession, in the fashionable Bayview Hotel in
Manila where a number of girls were taken forcibly
out of some 400 prominent women and girls the Japanese
assembled for their lustful orgy.
Orgy Started Feb. 9
"Miss G" said she was taken to a private room on
an upper floor along with about 20 other girls,
including some 12 to 14 years of age, when the orgy
started on Feb. 9.
The formal charge accuses Japanese under
Yamashita's command of raping other women and girls in
the dining room and private rooms of the Bayview
Hotel, the Alhambra and Miramar Apartments and the
Manila Hotel during the six-day orgy.
Correspondents were informed that scores of
Manila's most prominent families were involved and it
would not be fair to reveal their names or certain
details of their testimony.
---
Ley's Brain En Route
To Capital For Study
NUERNBERG, Germany (AP)
The brain of Dr. Robert Ley, Nazi labor leader who
hanged himself rather than face trial as a war
criminal, is en route to the Surgeon General in
Washington for study.
Psychiatric and neurological studies of Ley before
his death indicated he had sustained damage to the
frontal lobe, said Maj. Douglas M. Kelley of San
Francisco. "This probably was caused by an air crash
in 1917 over the western front while Ley was an aerial
observer," Kelley said.
---