---
July 1944 Atlantic crossing of "The Esta Marie" B-26G-5-MA serial number 43-34224
---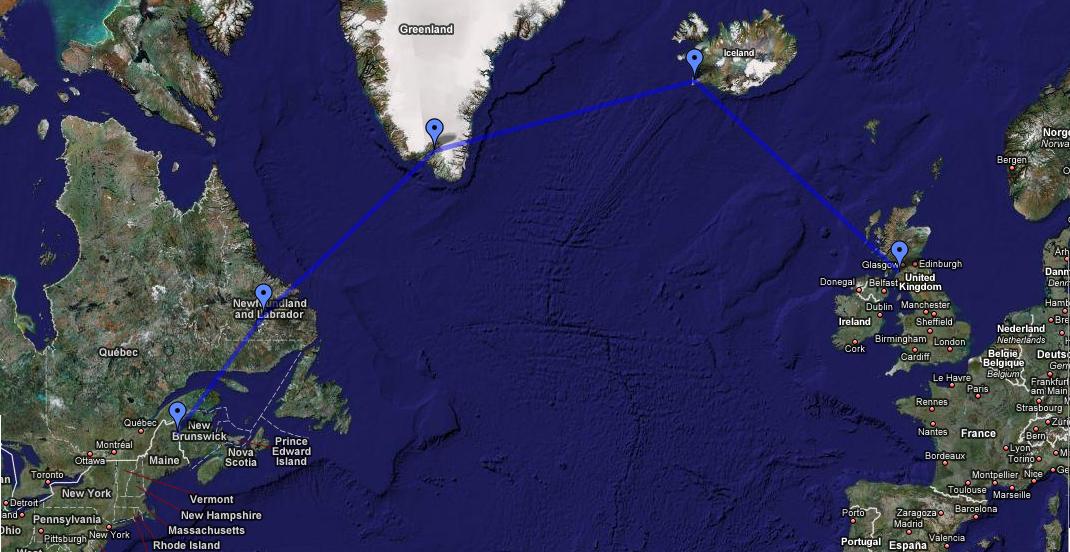 ---
Jim Harris' logbook
shows the journey from Georgia to England.
7-04-1944 Barksdale (Shreveport, LA) to Savannah, Georgia (by rail in a troop carrier train)
7-06-1944 Savannah, Georgia to Bangor, Maine
(8 day layover for 1 spark plug because Martin Baltimore not authorized to fix what it produced.
A plane from the west coast had to fly to Maine to bring 1 spark plug and fortunately a few spares.)
7-14-1944 Bangor, Maine to Goose Bay, Labradore
7-15-1944 Goose Bay, Labradore to BW-1 Greenland
(7 day layover waiting for good weather)
7-21-1944 Greenland to ICELAND
7-22-1944 ICELAND to PRESWICK,Scotland
---
Jim Harris' logbook
shows a flight from England to France in a B-26-G. This was probably the last flight in 43-34224.
"The Esta Marie" was assigned to the 559th Bomb Squadron as TQ-V with no name given.
She survived the war with 55 sorties flown. Source:
9thAF_387thBG.htm
She replaced another TQ-V, 41-31629 "Janet's Dream". Lost Sept 2, 1943? Source:
markstyling.com
.
Location: FRANCE MACR #516
accident-report.com/MACR
1st Lt. William F. Vosburgh O-793205 from NJ is listed as being killed 2/9/43 in B-26B 41-31629. Source:
usaafdata.com/surnameslist
---
created: 06-01-2008, updated :10-13-2009
Last Update: .
---